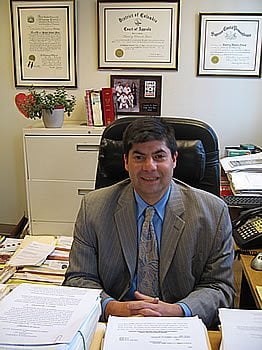 Harvey S. Mars was born in 1960 in Brooklyn, New York. He attended Oberlin College where he majored in political science and graduated in 1982 with a Bachelors of Arts. He also studied trombone at the Oberlin Conservatory of Music for four years as a secondary student. He then attended Albany Law School of Union University and earned a Juris Doctorate in 1985.
Immediately following graduation from law school, Harvey commenced working for several New York City law firms that represented labor unions and employee benefit funds. In 1990, in order to obtain a greater level of understanding and practical experience in labor relations, he enrolled in a Masters program offered jointly by Cornell University's Industrial Labor Relations School and Baruch College's School of Business. In 1995, Harvey earned a Masters of Science in Industrial Labor Relations and was inducted into Beta Gamma Sigma, an Honorary Society for business school students who have achieved high academic achievement. His Master's Thesis, "An Overview of Title I of The Americans With Disabilities Act and its Impact on Federal Labor Law" was published in the 1995 Volume of the Hofstra Labor Law Journal. (See Articles and Publications Section).
In 1996, Harvey commenced working with the Associated Musicians of Greater New York, Local 802, as one of its counsel. He had in fact been a member of this Union since 1994. He also writes a regular column, The Legal Corner for the Allegro, Local 802's official newspaper.(See Articles and Publication Section). He prides himself on providing quality low cost legal representation to professional musicians and recording artists.
In 2003, Harvey formed the Law Office of Harvey Mars, LLC and commenced practicing law as a sole practitioner.
Harvey has written extensively and serves as an Editor for BNA's Treatise, "Employee and Union member Guide to Labor Law" and is also a per diem lecturer at Baruch College and Columbia University's Teacher's College. He is active in the New York State Bar Association, AFL-CIO Lawyers Coordinating Committee and the National Employment Lawyers Association. Harvey has achieved a AV Preeminent Peer Review rating from Martindale Hubbell and has also been selected a Metro New York Super Lawyer for ten consecutive years in a row. In addition, he has been chosen as a member of the American Society of Legal Advocates and received recognition as a "Empire State Counsel" for his pro bono service. Always striving to advance his skills and training, Harvey recently acquired a Basic Leadership Skills Certificate, a Certificate of Labor Studies as well as an Advanced Certificate of labor Studies and a Certificate of Advanced Collective Bargaining from the Cornell School of Industrial and Labor Relations,
Harvey has previously been elected to serve as a member of the Board of Directors of CIANA; Center for the Integration and Advancement of New Americans, a not for profit social welfare agency providing new immigrants and refugees with transitional services run by a former client.  He is also a member of American Mensa.
Harvey is a member of the trombone section of the Senior Concert Orchestra of New York,  where he serves on the Board of Directors, the MAS big band and the Dean Pratt Big Band.  In January 2020 Harvey earned an  Artist Diploma Certificate in Trombone performance from the Cali School of Music, Montclair State University and is currently pursuing a Master of Music in Trombone performance at the Cali School of Music.  He is a member of Local 802, AFM as well as Local 16-248, AFM.
Since his admission to the , Harvey has handled literally hundreds of legal matters and litigation for a wide variety of clients For those prospective clients who desire references, references from former clients shall be provided upon request.